e-point SA is the leading
internet software house in Poland
We build custom Internet systems for global corporations
and deliver next generation technology solutions for Internet Developers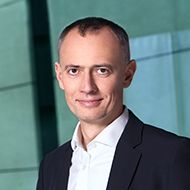 We call ourselves

an internet software house,
because System Architects, Engineers and Programmers are the core of our team. For well over a decade, we have been involved in the Java Enterprise environment (previously J2EE, J2E), in which we have become leading experts. We create custom Internet systems for our Clients, and, in parallel, we develop our own programming platforms, upon which we build our applications. For several years, we have been working on the productization of our technologies, so that, Developers everywhere may benefit from use of our advanced solutions.
Others call us


an interactive agency,

because we attach great importance to the user interface and the ergonomics of the systems we create, as well as to project success in marketing, sales, and operations. Our international Clients demonstrate exponential revenue growth as a result of our systems implementation.
Clients treat us


as a business partner

and work with us for years. We seek to understand in depth the Client's Business Model and then create a system that supports and develops it. These are often systems which play a critical role in our Clients' business.
Services
We can look at your business with the eyes of your customer and then deliver an Internet system that will open his wallet. We specialize in building and maintaining custom made internet applications, such as:
E-Business Systems
Portals
Mobile Apps
Workflow Systems
Other Dedicated Apps
Products
We have been developing our software platforms for more than a decade. We share our know-how with other Developers and Solution Providers. Today we are proud to offer the following products:
Recent projects
With more than 16 years of business experience, we at e-point SA have gained the confidence of many prestigious Clients. This achievement was possible as a result of our proven ability to effectively translate Clients needs into high-quality solutions providing real value and competitive edge.
More projects
Awards
While we do not work for awards, various aspects of our activity have been winning recognition not only from our Clients.

ActiveForms - Hit of 2013
for Financial Institutions
Our tool to build, publish and manage electronic forms, ActiveForms, was awarded the title Hit of 2013 for Financial Institutions in the category of Cloud Computing. The organiser of the 11th Leader of Information Technology of Financial Institutions 2012 and the Hit of 2013 for Financial Institutions was Gazeta Bankowa.

1st place
in the IT@BANK 2009 ranking
We were ranked first in the "Effectiveness" category among IT firms working for the financial sector and public institutions in the IT@ BANK ranking. We also ranked 4th in the "Development Potential" category and 9th on the overall list.

Project Excellence Award
Polska 2007
We won the prestigious Award granted by the International Project Management Association (IPMA) for the international e-commerce project carried out by e-point SA in 10 European countries for Amway.